BonkBreaker
Bonk Breaker Partner Sarah True Celebrates Hard Work, Balanced Lives, and Breaking Bonks!
Dec 21, 2022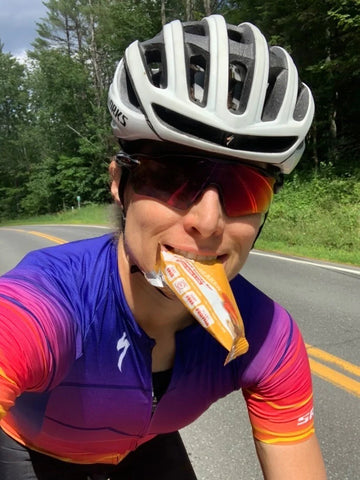 We are excited to welcome former Olympian and current IRONMAN competitor Sarah True to our team of pro athletes. Not only is she a champion, but she's a role model and inspiration!
Sarah won IRONMAN Lake Placid in July of 2022 in the professional women's field, with a record-breaking time of 9 hours and 22 seconds in the 140.6-mile triathlon -- nearly 10 minutes faster than the previous record! She also won IRONMAN 70.3 Eagleman in Maryland in June of 2022. Those are some impressive bonk-breaking results and a reflection of the hard work she put in to get there.
Even more remarkable is that she accomplished all this after taking almost two years off from training and racing. Did she sit back and relax during that time? Of course not! Sarah started a doctoral program in clinical psychology!
She also became a mom, bringing Haakon Barrett True into the world in July 2021.
Primed to win the IRONMAN World Championship in Kona in October, Sarah unfortunately suffered from an upper respiratory infection that prevented her from finishing the race, but we know this tough mother will be back on track in no time. We are proud to support such a multi-faceted athlete, who is balancing training, competition, intellectual ambition, and the toughest job of all -- being a mom.
Bonk Breaker is stoked to support athletes who are giving it their all in every aspect of their lives. As an athlete-founder-proud dad, our president, Jason Winn, shares why Sarah was a great fit for Bonk Breaker:
"We found a lot of common values with Sarah," said Jason. "Bonk Breaker was born out of the triathlon world, and we have nothing but love for people who find a way to balance intense, elite competition with family life. We are excited to begin this partnership and see great things in the future for Sarah."
Mutual feelings for Sarah about Bonk Breaker…
"I love what Bonk Breaker stands for and am excited to be working with the brand and its people," said Sarah. "Bonk Breaker is a perfect partnership for me. They have really fun and interesting flavors that my entire family absolutely love. Their products are nutritionally well-balanced, made with real food ingredients and, most importantly, delicious. Whether for training or as an emergency snack on a stroller walk, Bonk Breaker helps to fuel my busy life!"
We look forward to sharing more of Sarah with you. In the meantime, you can follow her journey on Instagram.