BonkBreaker
Getting Through the Winter With Goals
Dec 21, 2022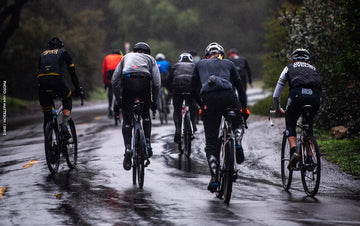 It's that time of year when a lot of us lose not only the feeling in our fingers and toes, but also the memory or what it's like to be fit, lean and successful in our chosen sports. Summer can seem like it'll never come back when it's dark by 4pm and your legs haven't seen the light of day in weeks. But don't despair, we're here to help you make you find the motivation that'll get you through the holidays and into the new year excited about what you can achieve.
Research suggests that having a goal will increase your likelihood of completing your exercise regime. It turns out that, while any goal is good, having a process goal is the most likely way to ensure that you stick to your training plan. Goals are generally divided into two categories, outcome goals (a result you'd like to achieve or event you would like to complete) and process goals (the processes you will need to repeatedly follow to achieve that outcome). We can, of course, combine both these types of goals and it turns out that is how most successful athletes train.
To take advantage of the values of goal setting, start by picking a realistic outcome goal. Pick something that will challenge you, but that is close enough to what you know you can do. If you've run 50k, 50 miles seems reasonable but 150 seems a bit of a jump. The outcome goal is fridge magnet material, the thing that you want to think about every day to get you out of bed and into your spandex before work. It's the carrot. But it's also the stick, let's say your outcome goal is the Badwater 135 , it has over 13,000 feet of elevation. If you spend all of December trading hill repeats for happy hours, that race is going to suck.
The comes the process goal. Look at the event you've chosen and work back from it. If you plan to cycle 100 miles, you want to be comfortable cycling 80 miles a couple of weeks beforehand. That means you're going to have to build endurance between now and then. That'll require habits such as early morning trainer sessions, long rides on the weekend and getting enough sleep in between.
Once you have established what you'll need to do, the winter months are a great time to do your future self a favor and take care of the things that can get in the way of your focused training. Make a plan, stick that to your fridge as well. Work on general fitness, that means stretching and core work to prevent injury as your training ramps up. Check your gear, making sure your equipment is ready for the increase in load once your heavy training begins. Make sure you are prepared with fuel as well, order bars and drinks now so that when it's march and you're trying to squeeze in two hours after work you don't suddenly reach into your bonk breaker box only to find it empty.
This part of the year is also when athletes can load up on quality time with friends and family. It's important to work out that exercise-life balance by discussing your goals with the people who matter to you and making sure that your sport goals fit with their goals for your relationship. It's going to be much easier to train if you know your partner is on board, and now is the time of year to discuss and decide what you want from 2019.
Once you have set a goal that is doable, worked out how to get there and shared that goal with your partner, it's time to convince someone else to do the same (which is why I will be secretly emailing this article to all my friends). Sometimes, sport can be isolating, and research shows that we are less likely to stick to goals we set on our own so bring your loved ones into the process. This might mean they also commit to a goal, even if it is less arduous than yours, so that you can motivate each other. Everyone knows the hardest part of any morning workout is not hitting the snooze button, and that is harder to do if your partner also has something to train for or your buddy is waiting at your front door for a ride.
By planning out 2019 in 2018, you can motivate yourself to keep fit through the winter, and take some of the emotional and logistical load off your future self as you strive towards your big summertime goals. Also, instead of just getting a bunch of tchotchkes as gifts, you can ask loved ones to help you supply for your goal and pay for your entry! So instead of browsing Amazon, get online and give yourself the gift of a goal for 2019.