BonkBreaker
Nutrition Tips to Crush the Off-season
Dec 21, 2022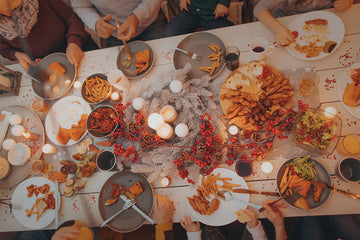 As the days grow shorter, the nights begin drawing in, and thoughts turn to pumpkin spice lattes and Thanksgiving turkey, epic days outside tend to be harder to come by. Even if you compete in an intense winter sport like cyclocross or skiing, most people's general activity levels tend to go down in the winter. It's entirely natural for us to want to take some rest as we get into the season where being outside is generally less pleasant, but those changes in our activity should also mean some changes in our diets.
Just as we would adapt our furling for epic days and peak events, we should also be conscious of how we eat when we are less focused on our exercise goals, or simply pursuing different ones. This doesn't mean you have to adopt the old school "don't train, don't eat" philosophy, just that some adjustments to macronutrient balance now can help make it easier to achieve goals once it's hot enough to go out in shorts again. Here are our tips for winter nutrition:
Eat fat and protein!
When you first move from big-mileage summer workouts to nighttime trainer sessions, your appetite takes a while to adjust. You might gain a little weight over the offseason and that's ok. It's healthy for our bodies to fluctuate a little and we can't be at race weight all year round.
But, we don't want to make the return to racing fitness and body composition too challenging, which is where eating more fat and protein comes in. It can be easy to avoid fat in the fear of gaining weight in the off season, but if you keep a moderate to high amount of fat and quality proteins in your diet, you'll find you feel fuller and don't gain as much weight as you would had you kept up with your in-season high-carb approach.
Cut the carbs (a bit)
Carbohydrates are great, and you won't hear us advocating for athletes to switch to a low carb diet any time soon, but that doesn't mean that you need to be eating all of the pasta all of the time. When you're not burning through glycogen with long, intense exercise sessions, you don't need to replace quite so much of that high-octane carbohydrate fuel.
Given that most of our caloric needs go down at this time of year, consider cutting carbohydrate portions--especially when not exercising--to remove some calories from diet and prevent too much weight gain. Try to cut carbohydrate portions by about 25-50% and, if you're still hungry, replace them with some fresh fall produce.
Try something new
We all know that race day is the worst time to tweak nutrition but we don't really talk about the best time. That time is now! When you're primarily training and not competing, you have the opportunity to test out new strategies for fueling before, during and after exercise without the risk of ruining a goal event. The fall is a great time to experiment with new breakfasts before training, try new in-exercise fueling strategies and work out which products work for you. If you've been stuck on the same flavor of Bonk Breaker bars for years, try some of our newer offerings. If your gels are getting to be too much, try some Energy Chews instead. Once you find something that works for you, stock up! That way you won't find yourself heading out for those important interval sessions in March without the proper fuel on hand.
Enjoy food and family
For many of us, this time of year is a time to reconnect with those we love and don't see as often as we would like. Food is an important part of that connection, and nothing is better than a table crowded with people you love and covered with foods you enjoy. So enjoy them! Don't let your sports goals prevent you from relaxing and enjoying time with family-- instead, use this time to reconnect with your body's hunger signals. Sports Nutrition teaches us to eat when and what we "should" eat, which is great and helps us perform. But when it comes to the holidays, try to eat what you want to eat, not what you feel you should. That relaxation and happiness is what you'll need to draw on when the going gets tough in your big summer events.