BonkBreaker
Six Tips To Bike Commute Like a Pro
Dec 21, 2022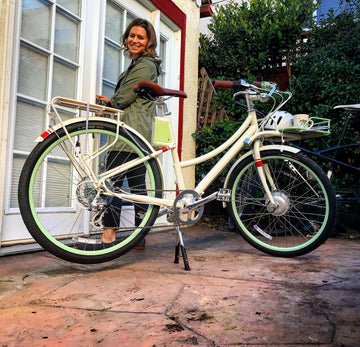 So many of us who ride bikes wish we got more time to ride bikes, but sometimes we don't realize that we are missing out on a lot of the time we could be riding bikes. For lots of us, cycling is all about training, racing and performance, but it can also be about going places. Those places might be hundreds of miles away and involve epic journeys and feats of bravery, but they might just be going to the office.
There are dozens of reasons to commute by bike beyond just adding some volume to your cycling routine. Commuting saves gas money, wear and tear on your car and the stress of rush hour driving. Riding to work means you arrive refreshed, don't have to worry about cramming in a workout and can avoid the inconsistent commute times that come with traffic delays. If that's not enough incentive, it's also a good way to get used to carrying gear on your bike. Once you've mastered loading and packing your lunch, work clothes and coffee mug, loading up for a big adventure will seem much less intimidating.
Here are a few tips for new and returning bike commuters.
Get your rig dialed:
If you intend on commuting daily, it's not a bad idea to invest some of the money you'll be saving on a bike with fixed racks or bags and some wider tires. This bike will make your commute more comfortable and leave your high-end bike ready to rock on weekends. Modern bikepacking bags are relatively quick to mount, but avoiding that Sunday night stress is nice if you've got the budget.
Bonus tip: bikepacking bikes make great commuter bikes so your commute bike doesn't have to be all work and no play. Also, Some employers will let you pay for this out of your pre tax income.
Keep it clean
Some employers are great and provide on site showers, others don't . If you're one of the lucky few who can shower at work, that's great. For the rest of us, products like action wipes and Chamois Buttr Skin Wash provide a great alternative. Even if you're not riding hard on the way to work, taking the time to clean up is a good idea for your comfort and health, not to mention that of your coworkers.
Be safe, be seen.
Commuting dictates your route, so you might find yourself on roads you wouldn't normally ride. Riding at rush hour can mean encountering lots of traffic on these roads and it's always a good idea to make sure cars can see you. This is especially true if you're riding home in the dark. We suggest front and rear lights , and a spare like the Blackburn 2ferXL at work in case your battery lets you down.
Reflective clothing, especially on your feet, really helps as well. As your feet turn the cranks they'll draw attention to you and make sure those work-weary car commuters give you plenty of space
Pack wisely
Starting out with a backpack is fine, but if commuting is a regular or long distance ride for you, getting that weight onto your bike will make the trip much more enjoyable. Blackburn's Outpost collection are affordable, fit in almost every frame and dismount quickly if you're using your training bike to commute.
Have a plan
It's a good idea to plan out your mornings: how long will the ride take? Where will you keep your bike? How much time do you need to shower/wipe down/change clothes before being at your desk at nine sharp? Work back from that and ensure you wake up early enough that you're not riding to work at threshold intensity!
Bring snacks!
Mowing through those commute miles will increase your caloric needs. You'll essentially be doing two-a-days, which means fueling properly will be essential if you want to avoid the dreaded "bonk on the way home when all the bakeries are closed" scenario. Stay safe, pack snacks.