BonkBreaker
Meet Bonk Breaker Founder & President Jason Winn
Dec 21, 2022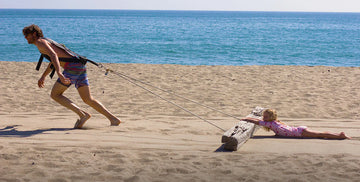 Jason Winn, Founder and President of Bonk Breaker, knows a thing or two about competition. He excelled in baseball and football in high school, and played quarterback at Texas Tech, a Division 1 school.
"I first caught the bug for endurance sports in 2004 when I was 22. I was done playing football and desperately needed to find a way to stay an athlete. At the time, I wasn't exactly sure what it was that I needed from a sport but I knew I needed the cleanse, the accountability, and the challenge."

Like many high school/college athletes post-graduation, Jason was looking for a way to stay active. So, a few weeks after graduating college, he did his first triathlon and caught the endurance bug. "I almost drowned in the ocean swim, but ended up finishing the race -- and it was a phenomenal workout! About an hour after the race, I decided to sign up for an IRONMAN."
After that, he went on to finish four half-IRONMAN races, compete in a 24-hour paddleboard race and, the day after the paddle, ride in the Race Across America, a transcontinental bicycle race from the west coast to the east coast.
Jason's approach to nutrition and training is simple – put a lot of good in, so you can get good out. "Basically, no fast food, endless fruits and vegetables and the rest just real food, quality meats and clean produce. No real restrictions."

But Jason couldn't find an energy bar that worked for him. The bars on the market were so dense and tough that he had to reach for water with every bite. He wanted a bar that was softer, easier to eat, and just plain delicious, not something that took effort to eat. Competitive athletes sacrifice and suffer to get to where they are… couldn't they have something fun and enjoyable while getting after it?

That's when it hit him – create a new energy bar. Focus on real foods that are easy on the stomach. And make it fun and tasty!

"I'm a PB&J fanatic. It's a classic American food, we all grew up on it. And I realized it's the perfect sports nutrition. So, what if I could turn that into an energy bar? You'd get the quick energy from the fruit jelly, sustained energy from the carbs, and protein from the peanut. Like a gel and a bar smashed into one, with no sticky mess."

Jason did what many of us do – he called mom. Inspired by his mom's baking skills, he started experimenting in her kitchen. He took breaks from his bartending job to work on recipes; he recruited his picky and brutally honest sister to be the taste-tester. Week after week Jason made a new "disaster" until after a few months, he felt like he was on to something – his sister didn't spit it out!

He finally did it – he created a great tasting PB&J bar that had the right nutrients and texture for athletes. With the perfect combo of strawberry jelly for fast-burning energy and peanut butter for sustained energy, the PB&J Energy Bar would become the anchor of Bonk Breaker, the company Jason founded in 2005. The name of the company was a playful take on the "bonk" – that feeling athletes get when they hit the wall and run out of energy. His products would be Bonk Breakers! To this day, the PB&J bar is a favorite among both kids and adults.
Since then, Jason's come up with other recipes inspired by mom: PB&Chocolate, Cookies 'n Cream, Apple Pie. And you may have spotted him running alongside racers across America, bringing fun and supporting people chasing their goals.
Jason's view on business is shaped by lessons he learned through team sports and endurance events: work hard, be a team player, and never give up. "In football and small companies, everyone on the team has to do their job, no matter how big or small, in order for us all to succeed. The chain is only as strong as the weakest link."

Bonk Breaker continues to be a family operation, with Jason's three kids testing every product and handing out samples at events. And now, with a strong and motivated team at Bonk Breaker, Jason has set out to change the sports nutrition field by giving athletes delicious, real food-based, functional nutrition. Above all, he's proud to be able to help fuel the athletic goals and healthy lifestyles of amateurs and pros alike.

And as Jason says to his kids every day: live a healthy life, push your limits, and most importantly, follow your passion!