BonkBreaker
Back to School and Sports with Bonk Breaker
Dec 21, 2022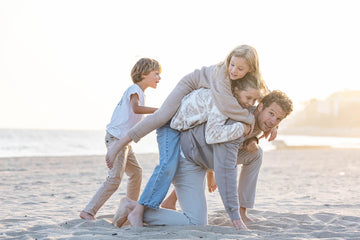 Just when you've settled into those summer vibes, BAM, it's back-to-school time! For athletes, this is also the start of fall sports and regular, sometimes-daily practices. Jumping back into it can be quite a shock to the system, with crazy schedules and long hours chasing those goals. But it's also…back to teamwork and goals and commitment and fun!
How does our own Jason Winn, founder of Bonk Breaker and dad of three, handle the transition from summer to school and what advice does he have for athletes getting back into the game?  
Question: How old are your kids?
Jason: I have two girls, eleven and nine, and the little guy is seven.
Q: What's your summer look like?
J: We do camping trips in Sequoias National Park – gotta love those huge sequoia trees. spend a lot of time at the beach. My older daughter is in the Junior Lifeguard Program, which is pretty serious! Surf camp for the younger daughter and son and skateboard camp for my son.
Q: Is it hard to transition back into school?
J: It's a little hard to let go of the summer, but they're excited to get back to activities and friends.
Q:  What extracurricular activities do they participate ?
J: The girls are really into dance – hip hop, contemporary, ballet, acrobatics – and they compete year-round. They also do Jiu Jitsu which is a mixed martial art, and it's part of a girls' empowerment program run by a friend in our area. It's really cool.
My son is a soccer fanatic! Some older kids gave him the nickname "Mini-Ronaldo." We're not sure if it's because of his soccer skills or because he wears [soccer star Cristiano] Ronaldo's jersey every day! [laughs]
 Q: Do you have any advice for high school and college athletes who are jumping back into fall training?
J: I hope they didn't take the whole summer off! I've been lucky enough to train with pro athletes the past two summers, and I found that staying fit, but doing things differently than how you would do them during the season – basically cross-training – helps prevent injury and keeps the mind fresh. The problem with doing the same repetitive movements year-round is that there's wear and tear on the body, plus mental burnout.
The advice I have for athletes is to practice with the mindset of giving your best with every drill at every practice. And stay hydrated and well-fueled. It can be dangerous, especially for the brain, to work out intensely without enough hydration and nutrition.
Q: What about your exercise routine? Does it change when the kids go back to school?
J: My routine doesn't change much. I try to keep it on track all year, which means I get up early every morning to do a trail run with my two-year-old Australian Shepherd. It's a three-mile loop and I add sets of pullups and pushups. I also do a weight circuit two times a week with friends. We schedule it around our kids' schedules. It's fun to train and hang out with my friends at the same time -- my workdays are much better on my training days. Helps my mental state!
Q: Let's talk Bonk Breaker nutrition… which products are you digging right now for your own workouts?
J: The PB&J Energy Bar is still my go-to for before workouts. After a workout, it's the Peanut Butter & Dark Chocolate Chip Collagen Protein Bar.
Q: You work a lot with college athletes… which products have you found are hitting the mark with them?
J: Once again, it's the PB&J Energy Bar! They also love the Cookies & Cream Bar, and the Rainbow Blast and Green Apple Energy Chews are on fire!
Q: PB&J is the classic lunchbox flavor! How does your PB&J Energy Bar satisfy an athlete's training needs and what they want to eat?
J: The PB&J Energy Bar is great for before and during a workout because it has a great balance of carbs and good fats – a 4-1 ratio of carbs to protein – which is the optimal burn for your body during training. It's all wrapped in real food – I wanted to make it with ingredients you can recognize.
We also have the for athletes who like a little more protein. The taste and texture are similar to the Energy Bar, but with more protein to kick in muscle recovery and satiation.
As far as taste goes -- well, who doesn't love a PB&J sandwich?
Q: Any final words?
J: This fall, give it your all – at school, work, practice, in life! Stay healthy, stay committed, and don't forget to enjoy the ride!