BonkBreaker
Mother-Daughter Duo Race at IRONMAN World Championships
Dec 21, 2022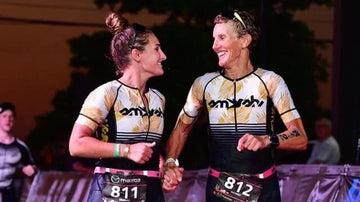 Here at Bonk Breaker, we are inspired by athletes who push their limits and motivate others to do so in the process. We are excited to share the story of Julie Nievergelt and Hailey Hillebrand, a mother-daughter duo who has been making waves in the triathlon scene for years. This 2022 IRONMAN World Championships story has been decades in the making for Julie and Hailey, and we can't wait to follow along. Check it out below!
Three Sports, Two Generations, One Race
Hi, my name is Hailey Hillebrand and I am a 28-year-old amateur triathlete. Growing up I had the privilege to watch my mother, Julie Nievergelt compete as a professional triathlete and even more specifically the IRONMAN distance. If you are not familiar with triathlon the sport is comprised of three disciplines: swimming, biking, and running. I traveled the world with my mom and our family watching her compete in races like the IRONMAN World Championship in Hawaii, the 2000 Triathlon Olympic Trials in Dallas, and countless other races across the globe. I remember being enamored by the races, watching all the fast men and women competing to be the best.  
As I got older I began to pursue sport on my own and started swimming competitively around age 11. From there I swam through middle school and high school and eventually was recruited to swim Division 1 at the College of Charleston. During my senior year of college, I started running as a hobby and ran my first half marathon that year. After graduating, I filled the void of swimming competitively with training for triathlons.
Over the past 5 years, I have been training for IRONMAN triathlons (2.4-mile swim, 112 mile bike, and 26.2 mi run). I've been lucky enough to have my mom as a training partner. My mom had such a long and successful triathlon career, and now she inspires me to find a love for the sport and the IRON-distance. My mom helped me train for my first IRON-distance race in 2017. In the six months leading up to the race, we did our long rides and brick runs together. It was so great to have my mom help me prepare for my first big race. We both live in Charleston, South Carolina, and conveniently in the same neighborhood. We swim, bike, and run together when we can and have done dozens of races together over the past 5 years. We even had the opportunity to cross the finish line together at IRONMAN Cozumel in 2019.
My mom is no longer a professional triathlete but rather a top contender in her age group and my biggest role model. We have both qualified for the IRONMAN World Championship, which will take place October 6, 2022. 
Since summer we have been gearing up and training for this big adventure! We feel so lucky that we get the opportunity to race with one another. Now the real question is who will win? 
Hailey Hillebrand is a fan of Bonk Breaker Energy Chews (especially Rainbow Blast), and the PB&J Energy Bar for her triathlon training.