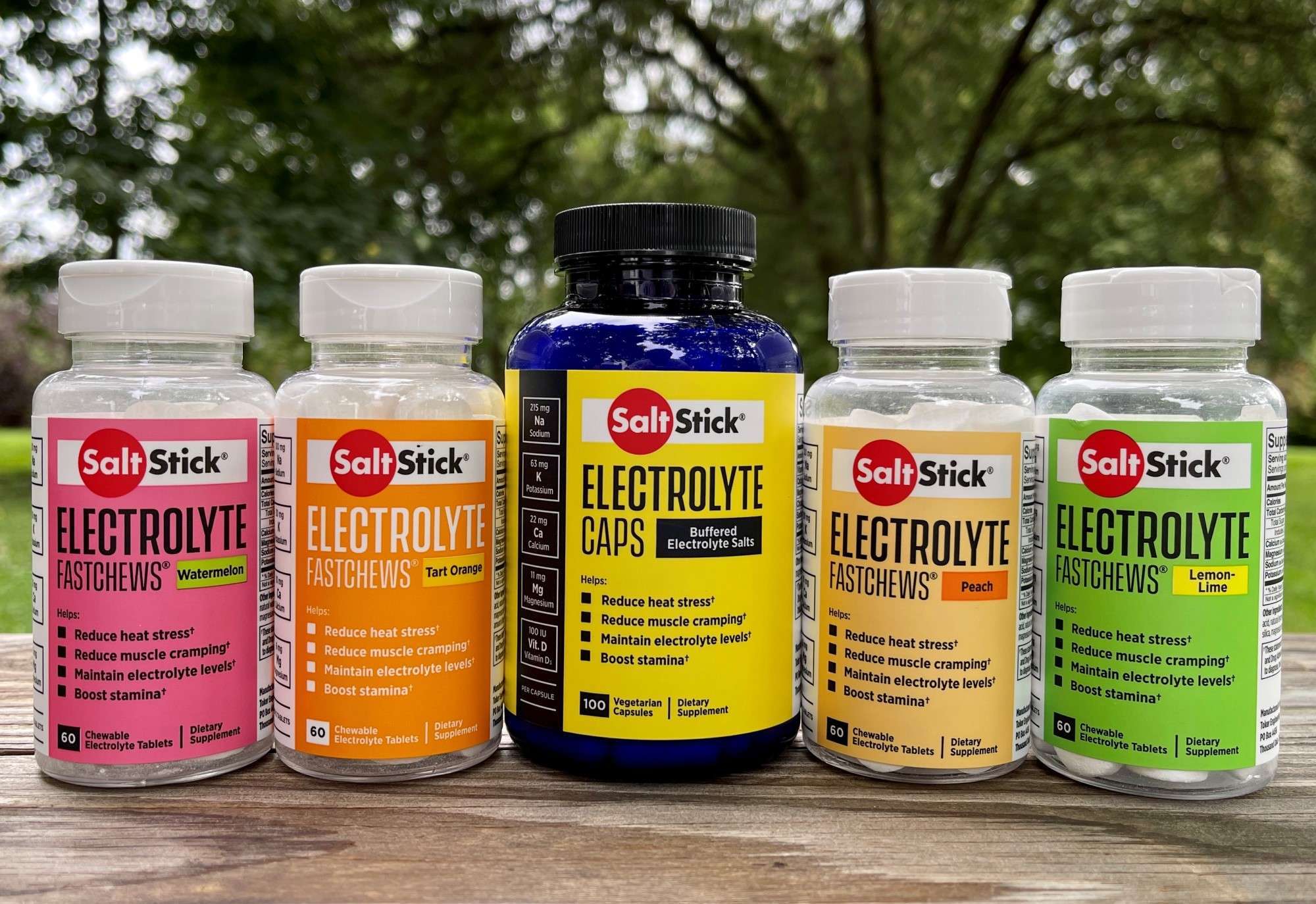 Since our beginning in 2006, SaltStick has remained committed to clean, simple ingredients that do not contain fillers or contaminants of any kind. We are strong advocates for drug-free sport, and we are proud of our spotless safety record, which is corroborated by thousands of athletes worldwide, many of whom are in various sporting body testing pools.
To ensure we are providing our customers and athletes with nothing but the best, we go to great lengths to keep our ingredients pure. Additionally, we have long advocated for transparency in the supplement industry, with product labels that disclose exactly the ingredients inside the product.
Below, you can find a list of everything we do to take SaltStick products from initial ideas to their final versions, which help thousands of athletes (and others!) around the world through proper hydration and electrolyte replacement.
Step 1: We create a new product
In the early-2000s, SaltStick founder and inventor Jonathan Toker, PhD, grew frustrated with taping electrolyte capsules to the top of his bike tube. That launched a mission to discover a better solution for dispensing electrolytes during racing.
After four years of design, testing and hundreds of hours of effort, the SaltStick Dispenser was born. Soon after, Dr. Toker developed SaltStick Caps by studying the scientific literature on electrolyte loss in sweat, highly bioavailable ingredients and field testing. SaltStick Caps have since become the accepted standard for electrolyte replacement capsules.
The first commercial sales of SaltStick took place in 2006, and the company has since grown to reach more than 40 countries around the world. We've added several new product lines as well, including Race Ready Caps and Race Ready Caps Plus, SaltStick Vitassium and SaltStick Fastchews, the latter available in Tart Orange, Zesty Lemon-Lime, Seedless Watermelon and Perfectly Peach.
In every case, Dr. Toker starts with a clear goal in mind: how to best support customers, athletes and patients. From there, each SaltStick product is researched, designed, tested and ultimately brought to market.
How we are unique: Jonathan Toker received his Ph.D. in organic chemistry from The Scripps Research Institute in 2001, worked in the biotech industry for five years, and raced in the professional ranks as a triathlete and runner for five years. Not only does he understand hydration and electrolytes from a biochemical standpoint, he recognizes the unique needs of athletes because he is one himself (and remains to this day a highly competitive one at that).
Step 2: We use the best ingredients
Once we develop a new product, we rely on only high-quality, expertly-sourced ingredients in their purest forms. Our in-house legal team has a vast knowledge of government regulations and the regulations of various sports associations, which helps ensure we remain compliant across the board.
SaltStick CEO and inventor Jonathan Toker, Ph.D., has both an extensive background in chemistry and lengthy experience as a professional athlete.
Step 3: We manufacture our products at a pharmaceutical-grade facility
SaltStick products are manufactured at a cGMP (current Good Manufacturing Practices) facility to ensure product of the highest quality, and our products contain only the ingredients listed on the label. This pharmaceutical-grade facility is U.S.-based and visited and inspected regularly by the U.S. Food and Drug Administration (FDA), State regulators, as well as members of the SaltStick team.
We have a great relationship with our manufacturer, and we have been partnering with the same lab for more than 10 years. Moreover, the facility is certified to produce products for sporting use, meaning it is never used to process ANY banned substances, for any customer, at any time.
How we are unique: Even though we have a long-standing, trusted relationship with our manufacturer, we are committed to ensuring SaltStick products are clean and free of banned substances. To that end, we periodically send our products to a third-party testing facility, at our own expense, to provide an extra layer of security that nothing has contaminated our ingredients. At any time, anyone can view the results of these tests on our Manufacturing & Safety page here.
Step 4: We monitor our products closely until they are shipped to you
Once SaltStick products are manufactured, we ship them to our warehouse, where they are guarded in a controlled-access, safe and secure location until they are ready to be shipped. We use our own contract trucking and shipping vehicles for transportation, and we maintain strict oversight of the entire process.
Step 5: You train with one of the highest-quality electrolyte supplements available
Whether you purchase SaltStick from our online store or at one of our retailers, you can train secure in the knowledge that we have done everything possible to provide you with the simplest, purest form of ingredients on the market. As a sponsor of many elite-level athletes around the globe, we take the safety of our products seriously.
For more than a decade, we've worked hard to establish our legacy as a company committed to excellence, and we are not shy about how we work. That's why SaltStick is the electrolyte supplement of choice.