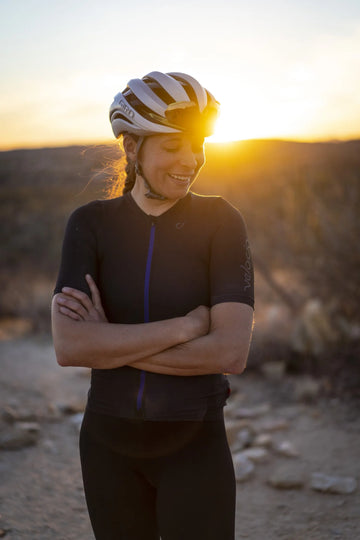 CRAFTED WITH THE SCIENCE OF PERFORMANCE AND NUTRITION
Our Founder, Jess Cerra, is a professional athlete and chef with a passion for racing bicycles, being active outdoors, and enjoying healthy and delicious food. Jess baked what would be the first JoJé Bar back in 2010, and since then, little has changed! What you pull out of the wrapper now is crafted with the same home-cooked style as that first batch pulled out of a tiny apartment oven a decade ago. Learn more about Jess and the history of JoJé Bar.
COMMITTED TO GIVING BACK TO THE COMMUNITY
Giving back is part of who we are as athletes, as employees and as a company. We're firmly committed to promoting inclusivity in sport and supporting athletes of all backgrounds in their pursuit of performance and competition. Since our start, we've partnered with multiple organizations to help make this a reality.
CHEFS CYCLE | NO KID HUNGRY
Food insecurity is about more than just hunger. When you invest in a child, it improves their self-esteem, self-worth and their likelihood of flourishing in school. This cause is deeply personal to Jess, who faced food insecurity at certain times when growing up. Receiving help from her community enabled her to access a college education and experiences that led her to founding JoJé. You may have noticed an option to donate $1 to Chefs Cycle | No Kid Hungry upon checkout, and JoJé matches every single dollar donated. JoJé also features special, extra-match days throughout the year.
THE LAST BEST RIDE
A non-profit gravel cycling event showcasing the beauty of Jess' hometown of Whitefish, MT, The Last Best Ride aims to promote inclusivity within the sport of cycling, with a special emphasis on mentoring young women. A portion of the event's proceeds support the Barbara Mansfield Champion Scholar Award, which provides aid to financially qualified women pursuing post-secondary education – in the same way the generation of others made a college education possible for Jess.
PADRES PEDAL THE CAUSE
JoJé donates a portion of proceeds to Padres Pedal the Cause, a community of cancer fighters including survivors, families, children, doctors and researchers who participate in a one-day cycling, running and stationary bike event to raise funds for local cancer research.
BEACH CLEAN UPS
JoJé, founded on the coast of southern California, has a dedicated interest in keeping our coast clean to reduce the impact on the environment and animals native to the area. JoJé regularly participates in beach clean ups, while also providing bars for other participants.
SUPPORTING THE ENVIRONMENT THROUGH SUSTAINABLE CHOICES
MATERIALS
The JoJé carton boxes are made with the utmost attention to environmentally friendly practices. Our brown boxes are made from partially recycled materials and printed with recycle logos. Please recycle these boxes!
CARBON FOOTPRINT
JoJé tracks our annual carbon footprint made from our production and transportation practices, which allows us to refine and improve in this area. This understanding has led to significant changes throughout the company's history, such as where our suppliers are located and how they transport our materials.
PARTNERS
JoJé is constantly seeking partners and suppliers that demonstrate responsible practices and technology which promotes sustainability. REI is an example of a retail partner that requires vendors to continuously evolve and practice sustainable and environmentally friendly measures.
FOOD WASTE
We are working with our new production facility to develop a system for donating all food-product waste.