JoJe
10 Healthy Snacks for Back to School, Work and Sports
Dec 21, 2022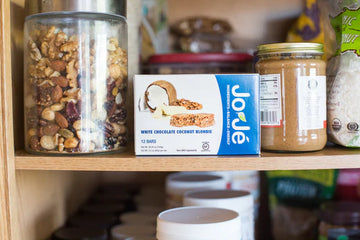 August means back to school for the kids and back to the schedule for the adults. Even if you don't have school-age children, you may be impacted by the traffic picking up again and things feeling more rushed than they did in summer.  
With all the bustling around to school, work and sports, don't forget to take a beat… to eat! Nobody likes a grumpy kid at practice or a hangry mom in the pick-up line. Have a healthy snack to stave off that attack and give your kids or yourself the nutrition you need to keep going throughout the day. 
Hopefully you can also manage a quick workout, and if you do, remember to eat a light snack with a mix of carbohydrates and protein 1-2 hours in advance. Any of these grab-and-go options will help make the most of practice or your next gym session!  
Here are ten healthy snack ideas that will satisfy all ages. 
1. JoJé Bars
Guaranteed to satisfy that anytime-of-the-day craving, JoJé bars offer more nutrition than a cookie or baked good but are just as tasty. JoJé bars come in fun flavors that kids and adults love (Pancakes & Bacon! White Chocolate Coconut Blondie!). They are made with real food and are certified gluten-free.

Take a look at the video below to see the deliciousness!
For a breakdown of allergens, check out this chart. 
2. Sliced apples with nut or seed butter  
Peanut butter is the classic pairing with apples, but you can try any nut or seed butter like almond, cashew, or sunflower seed.  
Tip: to keep apple slices from browning, you can soak them for 5 minutes in lemon juice, honey water (stir 1 TBSP honey into 1 cup of water), or salt water (dissolve 1/2 tsp kosher salt in 1 cup of water), and then rinse off and store. 
3. Crackers and hummus 
Crackers or mini rice cakes dipped in creamy hummus is a filling snack. Though the plain flavors may taste best, you could experiment with the many cracker and hummus flavors… how about Cheddar + Roasted Red Pepper? 
4. Sliced veggies and dip  
Veggies are a refreshing, crunchy snack and every kid (and adult) loves dipping! Buy a premade dip or make your own. Add any combination of spices like salt, pepper, garlic powder and onion powder and fresh or dried herbs like dill, parsley, and basil to plain Greek yogurt. A squeeze of lemon also adds to the flavor. If using a dairy-free yogurt, be sure to find an unsweetened one. Dips made from crushed tomato or eggplant are another option. Cutting up veggies ahead of time and storing in cold water in the frig makes it easy to grab this healthy snack!  
5. Trail Mix 
There are plenty of trail mixes to buy, but the best kind are the ones you make yourself. That way, you will never have to pick out the pieces you don't like! Suggestions: roasted or unroasted nuts (peanuts, almonds, cashews), seeds (sunflower, pumpkin), dried coconut, dried fruit (cranberries, raisins, pineapple, cherries, apple, banana chips), sweets (dark chocolate chips, white chocolate chips, chocolate or yogurt covered raisins), pretzel pieces (gluten-free, flavored, chocolate-covered), popcorn, cereal pieces. 
6. Fruit Cup 
Plain and simple. Cut up fresh fruit to make a ready-to-eat salad. Another tip: keep grapes in your freezer for a quick, frozen treat. 
7. Jerky 
Beef, turkey, buffalo, salmon… dried meats come in many varieties these days. There are even vegan alternatives like shitake mushroom jerky. An easy-to-grab snack, jerky can provide a good dose of protein and stave off hunger. 
8. Turkey & Cheese Lettuce Wraps 
Take a slice of turkey, roll it with a thin slice of cheese like provolone or jack, and finally roll it up in a piece of lettuce. Keep it as simple as this or add anything else you want from condiments to cucumbers. 
9. Yogurt Parfait 
Layers of yogurt and fruit make a pretty and delicious treat. Sprinkling in some nuts or seeds (or a JoJé bar!) can give it a nice crunch, and this can even be made dairy-free with the alternative yogurts available on the market. Try cashew, coconut, oat, or almond. For extra nutrition, consider adding chia seeds to your yogurt ahead of time (at least an hour). Because they will expand and soak up some of the yogurt, you may have to stir in a little milk/milk alternative to achieve the consistency you like. 
10. Rice Cake with Toppings 
A twist on toast… a crunchy rice cake becomes the vehicle for any topping you like. Try smashed avocado with sea salt, nut or seed butter and berries, cream cheese with smoked salmon, hummus and veggies, melted cheese topped with turkey and tomato. The possibilities are endless and no toaster required! 
However you choose to fuel throughout your busy day, don't forget to pack your JoJé bars in the car, the backpack or the sports bag!