2021 Dysautonomia International Conference
Thank you for joining us at the 9th annual Dysautonomia International Conference! Below you can find additional information about Vitassium, our participation in this year's conference, as well as other events and promotions.

Dysautonomia International's 9th Annual Conference will offer educational information for patients, caregivers, medical professionals, business and non-profit leaders, and government representatives who would like to learn more about autonomic nervous system disorders. Many of the world's leading experts on autonomic disorders are joining us, as well as other engaging speakers on topics of interest to the dysautonomia community.
Our company established a relationship with Dysautonomia International in 2016 to help support their research efforts towards treatment of autonomic diseases, including POTS, and we remain proud partners today. Dysautonomia International is a 501(c)3 non-profit organization that assists with research, patient support and public education of autoimmune diseases.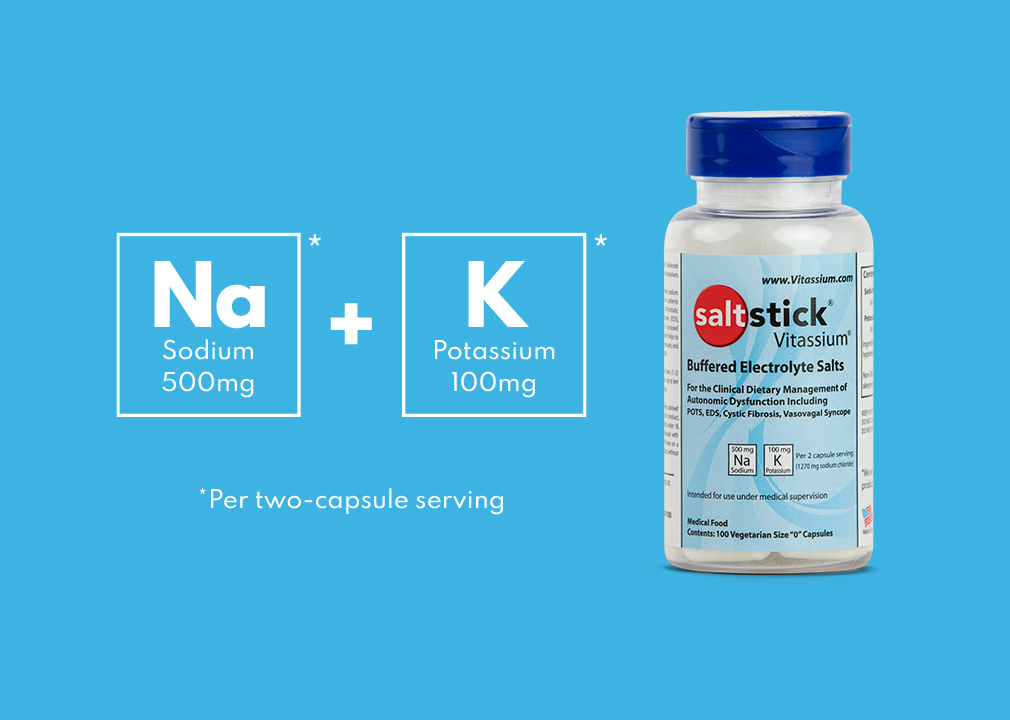 BUFFERED ELECTROLYTE SALTS CREATED FOR YOU.
Vitassium® is a medical food specifically formulated to provide sodium and potassium as part of the dietary management for patients with autonomic dysfunction including POTS, EDS, CF, Addison's disease and Vasovagal Syncope, when increased plasma volume has been shown to be beneficial.
Vitassium helps to maintain electrolyte levels, to support healthy blood pressure, and to reduce fatigue and dizziness due to low blood pressure. Tasteless capsules are small and easy on the stomach. Vitassium should be taken under the guidance of a physician. Click here to learn more about Vitassium. 
As a medical food​, Vitassium is specifically formulated to provide sodium and potassium ​to help manage symptoms of autonomic dysfunction including Postural Orthostatic Tachycardia Syndrome (POTS), Ehlers Danlos Syndrome (EDS), Cystic Fibrosis (CF), and Vasovagal Syncope, when increased plasma volume has been shown to be beneficial. If you use Vitassium or another SaltStick product for these purposes, or if this describes a child or dependent you care for, we encourage you to join the Vitassium Club today.
Below, you can see the full list of Club benefits, depending on your location. 

HOW DO I JOIN THE VITASSIUM CLUB?
Right now, the Vitassium Club is only available in the U.S., Canada, Australia, and the United Kingdom. You can also purchase Vitassium in Europe at its-running.de, in Mexico at gaudium.com.mx.  If you are located outside these countries, please contact us for more information on Vitassium retailers in your area.