How you feed your body matters, in sport and in life.
Bonk Breaker mixes classic flavors with simple ingredients for nutrition that's spectacularly yummy — and crazy effective:
✓ All the real food nutrition athletes need to perform.
✓ All the deliciousness of your mom's PB&J.
✓ None of the other stuff.
What Athletes Have to Say
"This bar is one of my favorites. Easy to eat and chew while on the go. Tastes great and is easy on your stomach so that your performance is not affected. I use it on long rides and runs, as well as a healthy snack when I am on the go."
"This is hands down my favorite bar. My friend gave me a PB&J bar during our backpacking trip, and it saved my energy from crashing. I instantly bought a box when I got back into reception because they're that good. The jelly layer in the middle... game changer!"
"You had me at salted caramel! It really hits the spot after a workout or snack. A hint of salt (electrolytes) and sweet (caramel) - I'm a big fan!!"
"All I can say is that I love these bars. These are my go to for a tasty treat and post run or ride refuel. I have minor digestion problems and I never have a problem with Bonk Breaker.... And they are delicious."
Energy + Recovery
More than 15 years ago, our founder, Jason Winn, made it his mission to create delicious, performance fuel made from real food. After launching the PB&J gluten free bar, which he first crafted in his mom's apartment kitchen, Bonk Breaker was born.
Mixing incredible flavor with quality nutrition, Bonk Breaker has since become a hands-down favorite of individuals, teams, and organizations. We've earned our reputation at elite sporting events such as the Tour de France, IRONMAN World Championships, the Super Bowl – even the Olympics. Whatever the activity, and no matter the sport, we're stoked to be a part of it.
Wait, so what's a "bonk"?
/'bȯŋk, 'bäŋk, bongk/
Verb: to hit the wall, a condition caused by the depletion of glycogen stores in the liver and muscles, which manifests as sudden fatigue and loss of energy. Can be experienced at times of physical or mental exertion: during exercise or team sports, at the office, or on the go.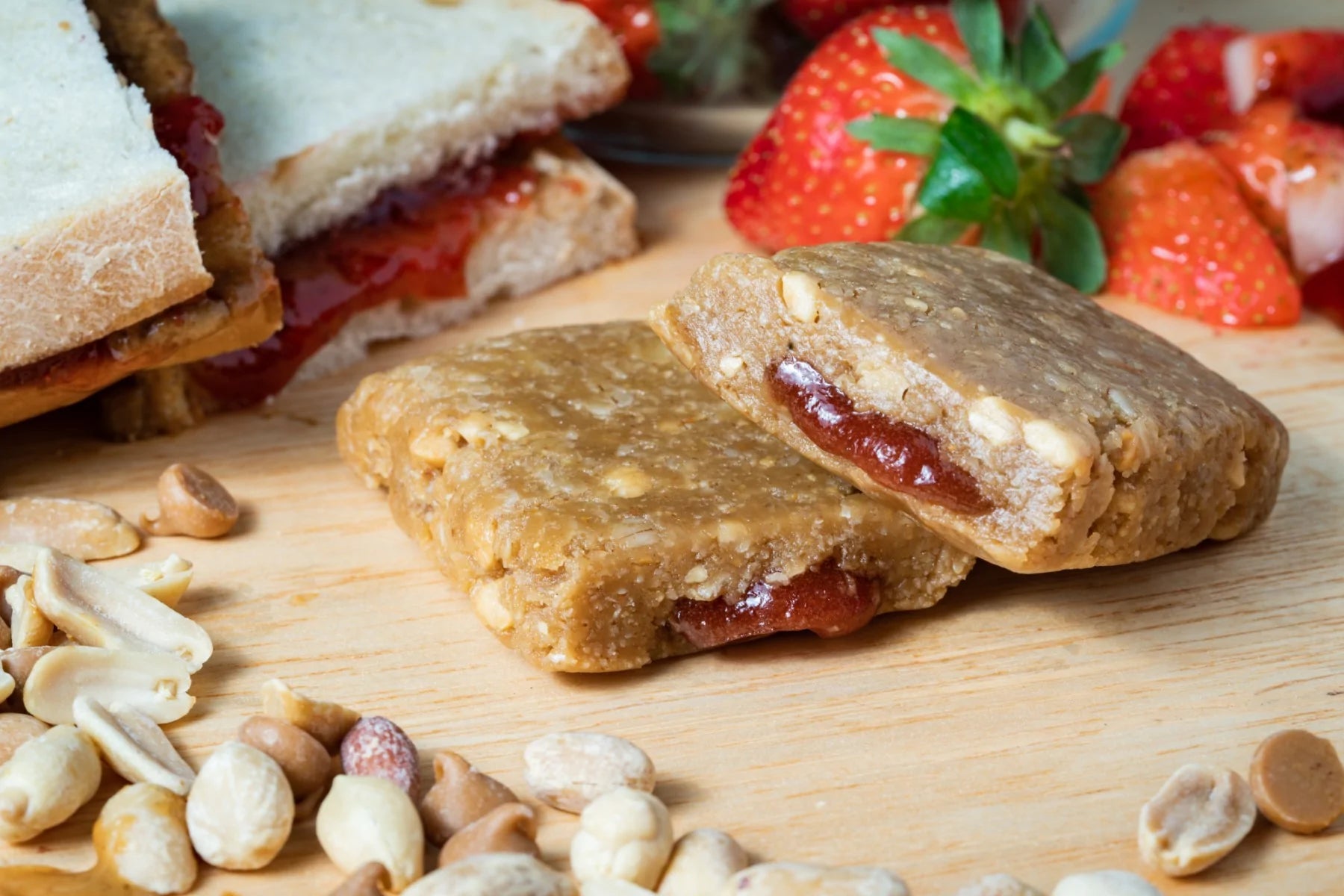 Bonk Breaker Peanut Butter & Jelly Bars
ENERGY BARS FOR ATHLETES | The original Bonk Breaker, our PB&J Energy Bar started with a few simple ingredients and an apartment kitchen. It's just like Mom used to make with REAL peanuts and a healthy spread of our original thick Strawberry jam. We'll even cut the crust off for you!
Side effects include a big smile, childish laughter, and a PR in your next challenge.
PB&J is made with REAL ingredients that are Gluten-Free & Dairy-Free.
Sale price
$33.00
Regular price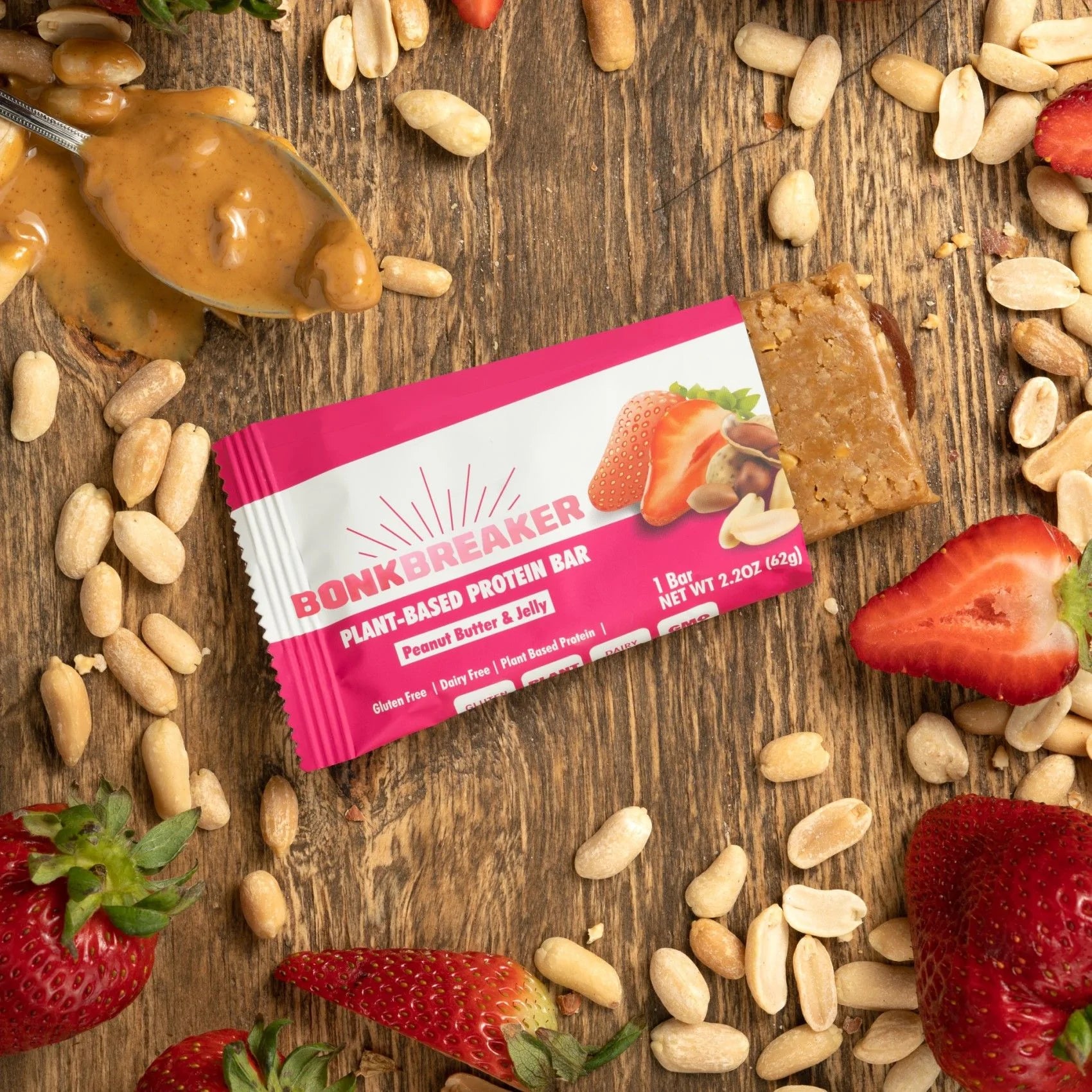 Bonk Breaker Peanut Butter & Jelly High Protein Bars
PEANUT BUTTER PROTEIN BARS | Too much of a good thing?! Not possible with Bonk Breaker's signature PB&J flavor, and now added plant-based protein!
As with the original, REAL peanuts and a healthy spread of our original thick Strawberry jam makes this Protein Bar a tasty way to build muscle or stave off the afternoon hanger attack.
As always, PB&J Protein is made with non-GMO, REAL ingredients that are Gluten-Free & Dairy-Free.
Sale price
$33.00
Regular price
Bonk Breaker Double Fudge Brownie Bars
CHOCOLATE PROTEIN BAR | Whether you're looking for a tasty, zero-guilt on the go healthy snack or the ideal post-workout recovery bar, our Collagen Protein Bars are the perfect solution.
Get that dark brownie flavor with a little crisp in a delicious bar with none of the messy clean up. This bar is packing 15g of protein with only 4g of sugar. All-natural, REAL ingredients that are Gluten-Free, and feature the proprietary Bonk Breaker® Protein Blend of Pasture Raised Collagen Hydrolysate and Grass Fed Whey Concentrate.
Sale price
$36.00
Regular price