Specifically formulated to support people living with chronic illness, Vitassium provides sodium and potassium to help manage symptoms of certain types of dysautonomia, including Postural Orthostatic Tachycardia Syndrome (POTS), Vasovagal Syncope, and Orthostatic Hypotension (OH), as well as other chronic conditions.
But what does that mean, exactly? Unlike many other brands, Vitassium was specifically created with chronic illness communities in mind and we operate around supporting YOU:
Join the Vitassium Club
Want to save money? The Vitassium Club is available to people who use Vitassium to help manage a chronic illness. Vitassium Club members get 25% off their purchase when buying from our website, plus free shipping on orders above $50.
The Vitassium Club is available in the US, Canada, Australia, the United Kingdom, and Mexico. 
Community Sponsors
Since our start in 2016, Vitassium has remained a proud supporter of the POTS and dysautonomia communities through our partnership with Dysautonomia International. Each year, we donate a portion of our proceeds to help support funding for dysautonomia research and awareness. 
Since 2017, Vitassium has remained a supporter of Ehlers Danlos Society events, through in-kind contributions.  
We have on-going partnerships with other organizations as well, such as the Sjogren's Foundation, Adrenal Insufficiency United, the Long Covid Alliance, and more, through in-kind donations or financial support.
Chronic Illness Advocates
Vitassium collaborates with chronic illness advocates on social media and blogs to help share messages of awareness and education. 
Live Q&A's with YouTuber Izzy Kornblau and Spoonie Content Creator Chronically Jenni 
A Journey of Inequity in POTS Treatment discussing a personal journey of racial health disparities with chronic illness advocate Natasha Graves 
Why Electrolytes Are Important For Proper Hydration With POTS blog post on Chronically Salty, a site for those with chronic illnesses made by people with chronic illnesses helping navigate the "new norm".
Spoonie-Owned Small Businesses
Vitassium collaborates with small businesses owned by people living with chronic illness. Some of the businesses we have supported include:
Nicole Believes: We collaborated with this spoonie artist to create a custom spoonie sticker, which we included in all orders in October and November 2022.
Vacayability: inclusion tourism website where people can rate and review places based upon accessibility. 
Sick Person Shop: Shop that has clothing and other items that empower the chronically ill and disabled communities. 
Grace & Brace: Items made to encourage those living with chronic illness to go through it with grace, faith, and sarcasm. 
Jaiden Estelle Designs: Chronic illness and mental health stickers. 
Behind the Visible
Vitassium is a proud supporter of the "Behind The Visible" documentary, which takes the viewer on a journey to get to know some people who live with POTS to show how it affects their lives. 
Education & Awareness
We help provide education resources and support chronic illness awareness on our website and social media pages, to help reduce diagnostic delay and do our part in helping people ease their symptoms.
To explain Vitassium in greater detail, we collaborated with the artist PotsieSpoons to help illustrate dysautonomia and how she uses Vitassium to help manage her symptoms. We hope this comic is a helpful educational tool for you and anyone who would like to learn about Vitassium.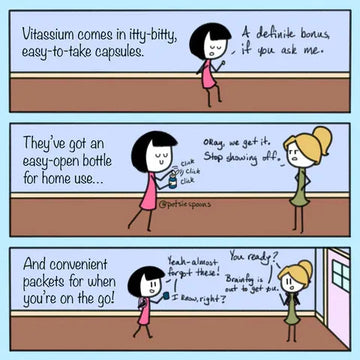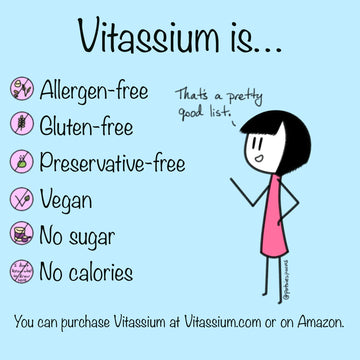 We have provided some helpful tips and resources available for when you are diagnosed. 
We're transparent about the extensive research that supports our products.  
Provider Program
Through our Vitassium Provider Program, we can donate free sample packets to U.S.-based physicians and clinics who care for individuals with dysautonomia, POTS or EDS.