HOW CAN SALTSTICK HELP MY PRACTICE?
Through our ​Vitassium Provider Program​, SaltStick can donate free Vitassium 8-count sample packets to U.S.-based physicians and clinics who care for individuals with dysautonomia, POTS or EDS. Our Provider Program began in 2015 with the original SaltStick Caps product and has since grown to many clinics and care facilities around the country. An 8-count packet contains the equivalent of 2000 mg sodium, or 5g of salt, along with 400 mg of potassium.
We recommend that each dysautonomia patient receive one free packet of Vitassium capsules, coupled with our Vitassium Postcard (see below). In addition, we encourage physicians to recommend that patients join the Vitassium Club to save 25% on SaltStick electrolytes.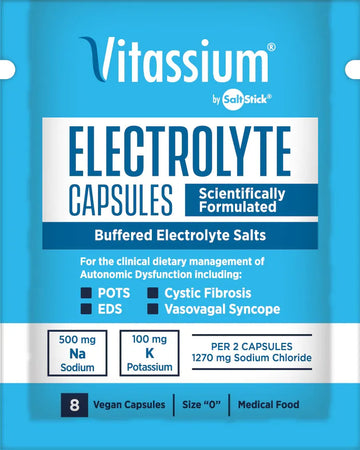 HOW DO I APPLY?
Please contact us here, and let us know that you would like to join the Vitassium Provider Program. The Program is for qualified U.S.-based physicians or clinics who care for individuals with dysautonomia, POTS or EDS. We reserve the right to deny any application for any reason. Our team will contact you within two business days of receiving your application.
WHAT SHOULD I EXPECT?
Once you are accepted as a member of our Provider Program, our staff will call or email your office to confirm your acceptance and walk you through our ordering process. Your office can conveniently order FREE SaltStick Vitassium 8-count packets and FREE Vitassium postcards (see below). If you want to review Vitassium before applying, we are happy to mail your office a selection of Vitassium samples and literature for your review.